10/11/01 :: chickenpox
Arrgghh...Lottie gets the pox. Chickenpox to be precise. She first came out in a rash at the Langstrath hotel where we were spending the Gable weekend with friends.
Initially she didn't seem to be too unwell. However, the whole thing lasted for about two weeks; some of this time she looked pretty rotten and lost quite a lot of weight. What a poor little honey.
09/10/01 :: first school photo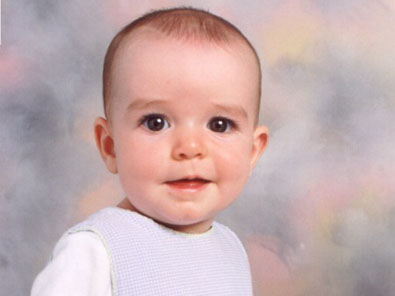 Today we got Lottie's first 'school photograph' from nursery. We were really pleased with it.
The odd thing is, although she looks like her dad, there is absolutely no sign of floral ties on elastic or shirt collars down to her knees - that was my standard issue school photograph outfit.
I wonder, in the future, if Lottie will look at this outfit and shudder?
16/09/01 :: charlotte is christened

Lottie was baptised today. I guess, therefore we should call her Charlotte Jane Leigh, for today at least. Her Godparents were Jane Newby, Eunice Leigh and Nic Kidd.
She was christened at St. Edmunds church in Sedgefield.
01/08/01 :: baby sumo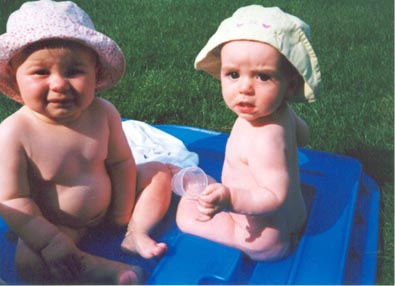 Ah, there's nothing quite like lounging about in the sun, starkers with the neighbours. What a liberated society we live in.
I'm sat here with Abbie in her luxury sandpit and the weather is glorious. Just a shame that our mummies make us keep our hats on.
19/06/01 :: more holiday tales

lottie's first foreign holiday began this week. she'd been to the seaside before, but that was seaton carew just up from the steelworks.
this time we drove to normandy. we stayed in a tiny gite in the town of barneville-carteret.despite a very pukey ferry crossing, lottie seemed to like the whole concept of holiday. The good thing was that the gite had a washing machine which was big enough to be able to cope with our beautiful barfing daughter..
Spooky stare huh?
Easter :: lottie goes caravanning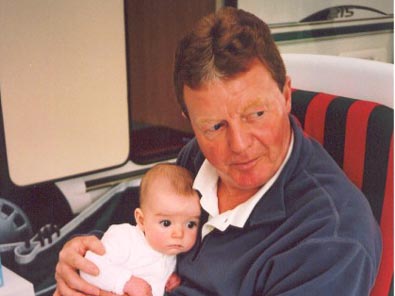 lottie enjoyed her first caravanning experience this week. a few days in the lake district with grandma, grandad, mummy and daddy is just the ticket. just look at her, she loves it...doesn't she?
01/02/01 :: charlotte comes home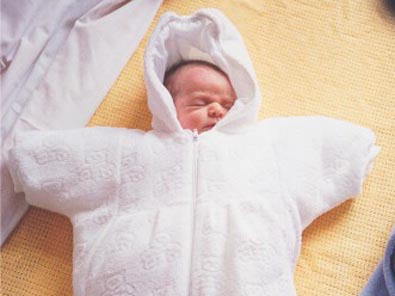 welcome home little one. as a concession to thrift, we decided to get you a going home outfit that would last until you're at least five.
no doubt you'll have slithered down to the bottom by the time you reach home. don't worry, we'll fish you out somehow.
now the fun begins, well at least for the grown-ups. now, where did that instruction manual go?
30/01/01 :: lottie is born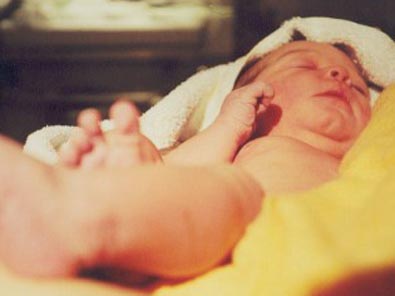 charlotte jane leigh makes her grand entrance today. she weighs 7lbs 5oz. She's a good looking filly and we like the cut of her jib. bec was in labour for days, well from 02:00 on Sunday, through to 09:05 on Tuesday. She did a top quality job.
charlotte's every day name is to be 'Lottie'. this will no doubt save time and wind both sets of grandparents up. tremendous.