26/12/04 :: christmas on the beach

just like our antipodean buddies, we too enjoyed christmas on the beach. well, it was boxing day actually, and it was so cold and windy that we only lasted about four minutes. all the olds were poorly, and as a consequence, were much less thirsty than usual.
29/11/04 :: rosy cheeks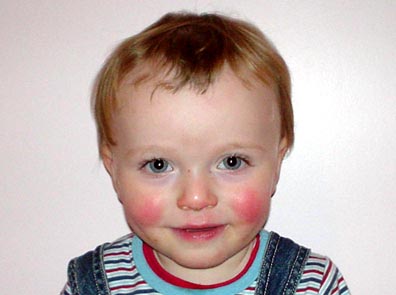 it's funny but the only time my parents have cheeks this rosy is when they're on the old vino, which, admittedly is most of the time. not me though, i'm tea-total for now, although with all these teeth coming through, i sure could use a drink.
31/10/04 :: smashing pumpkin

a good rule of thumb is never to eat anything bigger than your head. on this basis, pumpkins are only good for scooping out and making halloween lanterns.
this fellah started out with pointy teeth and a menacing snarl - trouble is, it was just way too scary. so a few minutes of dental work by mummy rendered this dude entirely harmless. we've got the least scary pumpkin on the planet.
17/09/04 :: ben is one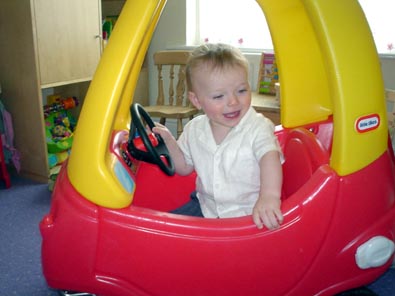 my little brother has only been walking a few days and my parents buy him a car for his birthday. what's going on? little wonder the youth of today has a problem with obesity. only this morning ben chose to take the car from the kitchen to the playroom; a journey i made on foot.
22/08/04 :: ben is baptised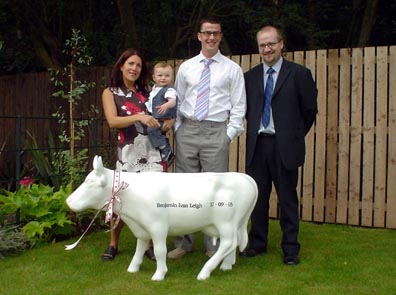 today my brother was baptised. it was really his show today, but it's safe to say i got quite a look in too. the preliminaries were held at st. edmund's church in sedgefield, and then the bun-fight was back at home. so here's the deal, the guys who have to look after him when mum and dad do a runner are aunty pif, uncle math, unca doug and canadian andy.
uncle math bought us the ultimate in christening gifts, a real-life cow parade cow.
03/07/04 :: holiday!

we're on holiday. bloomin' Wales again, in the tent. the forecast for the week is hurricanes and rain of biblical proportions. it's the first time ben has been under canvas too. if we're lucky, he'll get us thrown off the campsite with his midnight wailing.
anyway, I'd better get sniffing out the ice-cream.
13/06/04 :: eco-fest

today we went to 'eco-fest'. it wasn't quite the tree-hugging event mum and dad had hoped for, but it did mean i got to ride this fantastic carousel, which runs on diesel and outputs a tonne and a half of sulphur dioxide per revolution.
incidentally, looks like someone pinched my candy-floss.
16/05/04 :: kiwi vistors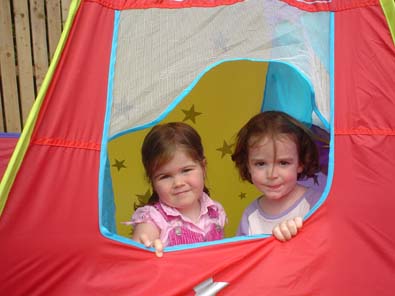 some friends of mum and dad's came to see us today. they live in new zealand, which is even further away than sedgefield. ella is my new friend, and dad says i should keep her sweet in order that we try and land free holidays for life.
04/04/04 :: beach babe

it's april, so we're all off to the beach. ok, so seaton carew isn't the carribean, but it's closer. and these sunnies stop the glare of the flare stacks...
26/03/04 :: hug or heimlich?

the best thing about having a brother is being able to have someone to wrestle with at any time of the day or night. better still, my halfwit parents think it's cute that we 'play together so nicely'. wake up olds, WWF isn't a wildlife fund anymore.
28/02/04 :: what no snowmen?

it's totally snowy outside. i'm itching to build a snowman. instead, dad is taking me to the hill of doom this afternoon for some sledging action. i'm off to find a tin hat?
19/01/04 :: blue eyes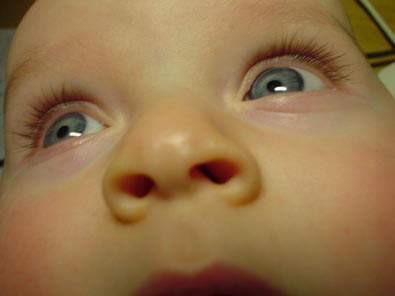 blue eyes and bogey-free. on occasion, my little brother brushes up just fine. for him to look this good, we must be having visitors, probably his social-worker.