17/12/06 :: holly hunter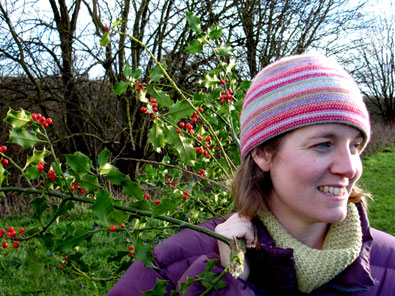 this month we thought we'd tip our hat in the direction of mummy. she doesn't often get a mention; indeed the last time her photo appeared here was a few minutes after she'd just pooped my brother out. so, to prove that we've not buried her under the patio, here she is stealing some holly. anyway, joyeux noel, happy hanukkah, and go easy on the chestnuts.
11/11/06 :: beamish monkey boy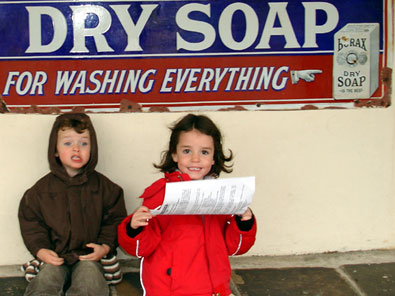 today i've come to beamish, an outdoor museum full of old stuff. most of it is closed but you can still hang round the bus stop in the rain with delinquent boys. dad tells me that in a few years this will form the basis of a big saturday night out. mum tells me it certainly will not. who to believe?
14/10/06 :: conkers bonkers

uncharacteristically, we've been at home for two weekends on the trot. whilst we would have been quite content to spend the entire forty-eight hours watching television, the grown-ups sent us out to forage in the forest. and what do you know, it was actually quite good fun! abandon your playstations, conkers are the future.
30/09/06 :: wild camp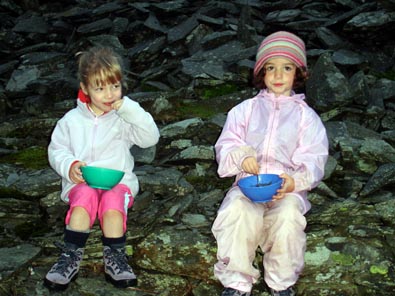 dad and unca doug have brought me and megan wild camping in the kentmere valley. it's our first time camping out in the fells. despite dad's eighty kilo rucsac he still managed to forget my dressing gown and the ice-cream. funnily enough the hip-flask and trowel made it here.
30/08/06 :: shocker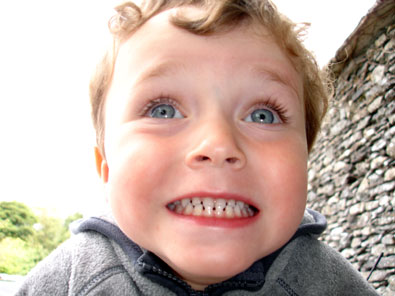 my little brother is officially no-longer a toddler and has graduated to the pre-school room in nursery. he's also out of nappies too which is great. boys have it easier when it comes to alfresco urination, although as the picture suggests, you only ever pee on an electric fence once.
23/07/06 :: happy as a sandboy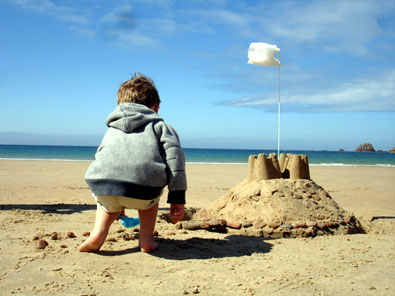 at the end of the month we spent a week in jersey with nanna and papa. the weather was great, the beaches were clean and the sea didn't contain any box jellyfish like last year. it was a real old-fashioned holiday, washed down with gallons of ginger beer. even the girls were as happy as sandboys.
17/06/06 :: pox and potty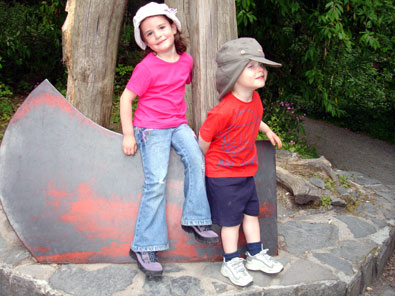 june has been a funny old month. my brother has enjoyed the heady combination of potty training and chickenpox. unsurprisingly, i haven't been getting much attention at all. whilst ben has been pressure testing his plumbing, mum and dad have been keen to keep him outside for most of the day. and so here we are, in the lake district, again. this time, grizedale forest.
31/05/06 :: ice cream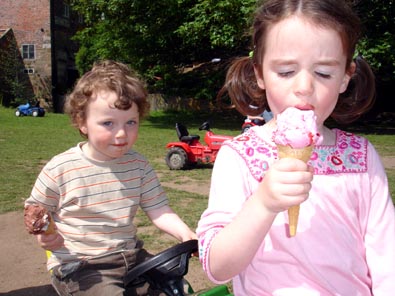 it only seems a few minutes since it was easter, nevertheless, it's already half-term, and no doubt i'll need to have my UCCA form handed in before long. anyway, to ease the rapid onset of adulthood we've come to the big sheep little cow farm in bedale. anyone care to guess what happened to my brother's ice cream moments after this shot was taken? suffice to say i ended up sharing half of mine.
14/04/06 :: tree climbing

it's easter and so we're in the lake district. we're with grandma and grandad, who in between plying us with chocolate eggs, take us for long character-building walks. and when it all gets too much for them, they stick us in a tree and slope off for a snooze.
04/03/06 :: extreme sledging

this weekend we were packed off to harrogate, where, as chance would have it, they had some snow. both dad and grandad were eager to expose us to a luge run in the valley gardens. whilst my sister loved it, i was less convinced, and if i make it, i shall be asking for a complete set of body armour for my third birthday.
19/02/06 :: newcastle

i asked dad if there was a castle in newcastle. he said there was, and today we went there. i foxed him by asking 'if this is the new castle, where's the old one?'. 'ask your mother' he replied, 'she's the smart one'.
28/01/06 :: fifth birthday party

so it's my big sister's birthday party this weekend and the house is full of good looking ladies. thirteen of them, and me. once i've wowed them with my sausage-on-a-stick world record attempt i'm going to drink eight pints of fruit shoot and then show them some dance moves. i'll be irresistable, or so my dad reckons.