29/12/08 :: winter walk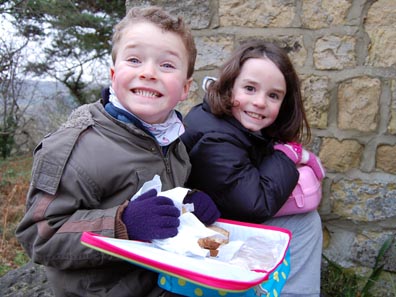 and so because mummy was working today, daddy was left in charge. off we went for a bracing walk in the north york moors with some of our buddies. it was a cold and muddy affair, the redeeming feature being some dry sandwiches hastily thrown together from the contents of the back of the fridge. for the avoidance of doubt, that's a frozen grimace you can see rather than a full-on smile.
29/11/08 :: hansel and gretel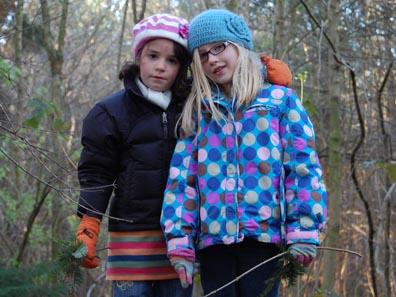 another guest photographer this month, with mummy taking first place in the snap happy stakes. eleanor came along for a sleep-over this weekend, and in a vain attempt to tire us both out, we were taken deep into the woods and left to make our own way back. still, at least we were dressed for long-range location.
31/10/08 :: happy halloween

when daddy was a growing up, they hadn't even invented halloween. instead they waited a few days and then made their own fun by putting bangers in postboxes. that sort of behaviour is soooo last century. these days we start early and practice extortion with a little menace and intimidation thrown in too. whilst not scared in the slightest, ben spent most of the evening hidden behind me.
04/09/08 :: ben starts school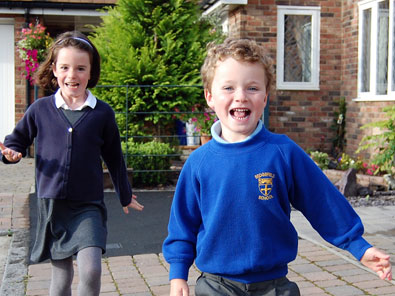 hurray, no more nursery fees to pay, ever! both children are now in school. we dropped ben off for his first day this morning and when mummy picked him up at midday, he announced that although he'd had a good time, it was quite tiring and on this basis he didn't think he was going to bother going tomorrow. i can't fault the little guy's logic.
04/08/08 :: wet week in wasdale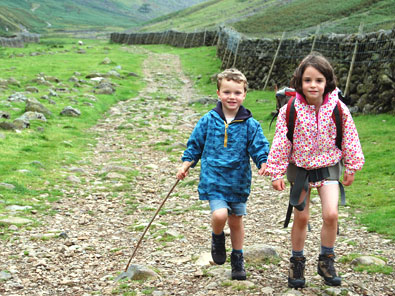 and so after a scorching week in jersey with nana and papa, mummy and daddy have brought us camping in wasdale. it's the wettest camping trip in history. how many four year olds get trench foot on their summer holidays? aside from the microbrewery at the wasdale head in, the highlight for daddy was a family outing to styhead tarn without having to carry anybody.
04/07/08 :: homegrown

mum and dad have turned into tom and barbara from the goodlife. times must be hard as deliveries from tesco have slowed down and they've started to grow their own crops. if only we had a recipe for slugs, we've got thousands of those.
08/06/08 :: treehouse

daddiola has built us a treehouse. actually, we think that it's really for him rather than us, still he seems to let us play in it sometimes. at over three and a half metres high, you get a bit giddy up here, particularly when the olds come up here to load test it. if you look carefully you might just see the safety netting that we're not allowed to lean against.
26/05/08 :: long bike ride

today we went out on our bikes en famille. mummy only lasted three miles, but the rest of us managed a whole nine miles. this is a personal best for the younger contingent and something that dad was really pleased about. he says that given the price of diesel we had better get used to being in the saddle.
15/04/08 :: disneyland paris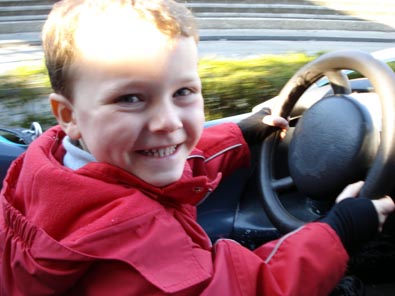 and so the easter holidays took us all off to disneyland paris. it was a blast and we managed to spend four action packed days blowing euros like they were going out of fashion. highlights included the autopia ride where we got to drive a real car and the hotel swimming pool that ben would quite happily have spent the entire ninety-six hours in.
16/03/08 :: hair today gone tomorrow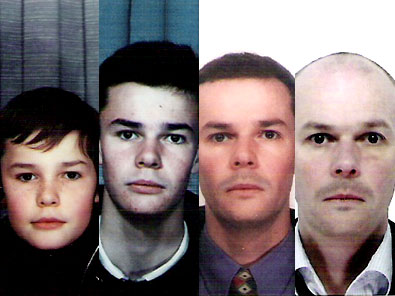 daddioloa got a new passport this week, his fourth ever. given that he's kept all of his previous passports, we thought it would be nice to see how gracefully he's aged, so here are the photobooth snaps taken at ages 11, 18, 27 and 37. gracefully no, more psychotic looking, yes.
09/02/08 :: winter icecream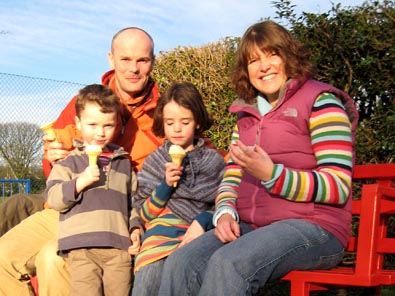 down to bolton again this weekend to try and lure poor nana out of hospital. in between trips to the sanitorium we found a few moments to extract an icecream out of aunty caroline and uncle matthew. perfect weather for it!
13/01/08 :: irate pirate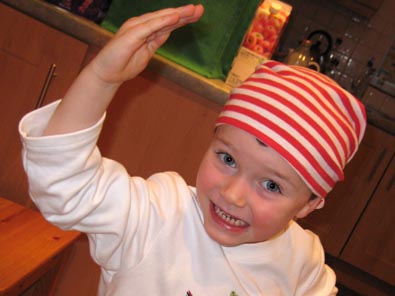 so this weekend we all came down to bolton to see nana and papa. we came down to see poor nana who's been in hospital, but perhaps more importantly, to pick up christmas presents that hadn't been delivered in december. we had a swashbuckling time.